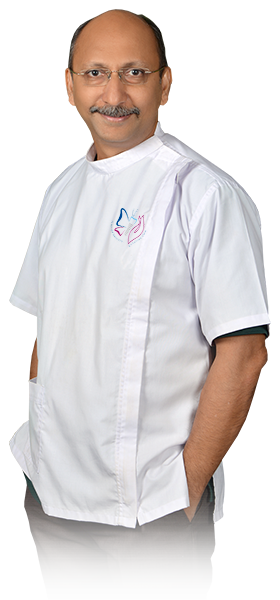 Dr.S.C.Selvamuthukumar
is a 1987 graduate from Madras Dental College (subsequently renamed as Tamil Nadu Government Dental College). He went on to complete his masters in the same institution in 1991. Dr.S.C.Selvamuthukumar has done many additional courses in India and abroad in implantology, cosmetic dentistry and practice management.
Dr.S.C.Selvamuthukumar

and his team have dedicated themselves to provide you the best that dentistry has to offer. He is continually upgrading his practice with the latest techniques and endeavors to provide the best, ethical, antiseptic, comfortable and personalized dental care available. 
Dr.S.C.Selvamuthukumar
joined as Senior Lecturer in SreeBalaji Dental College and Hospital in 1991 in the department of Oral Medicine, Diagnosis & Radiology. He then served as Asst. Associate Professor and since 1998, has been the Head of the Department in the same subject in SRM Dental College, Ramapuram, Chennai and finally resigned from Thai Moogambigai Dental College after 24 years in Academics. 
He has lectured in India and abroad and has presented papers in various National & International conferences. He has numerous publications to his credit. 
He is the son of Mr. C. Chinnaswami, Senior Advocate, Madras High Court, who hails from a village near Erode called Sanarpalayam. His maternal grandfather is Padmabhushan Periyasamy Thooran.
He is known as Selva by his school friends from VanaVani Higher Secondary School, IIT; SMK by his college mates, Kumar and Muthukumar by his relatives and Kumsi by his close friends.